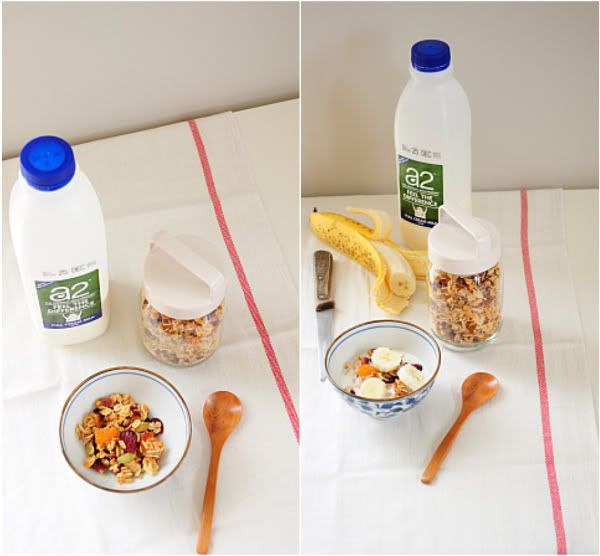 Pretty funny weather we have here in Melbourne right now. Summer is miraculously not in the scorching 30°C - 40°C, but windy, rainy and cool. You know, I think I can get used to this right now :)
Despite the cool weather, it doesn't stop me from eating ice cream. So it will definitely not deter me from having cereal or muesli with cold milk from the fridge in the morning. I've only bought Vogel's toasted muesli once from the supermarket and was pretty happy with it, until I decided to make my very own batch. Crunching and chewing through honey coated oats and my favourite dried fruits and nuts with a few slices of banana makes my mornings.
You should try some too.
Less than 4 days until Christmas and I still haven't baked anything yet! Thinking about mini gingerbread houses as gifts for now...but might change my mind since I need to become an architect with fine mathematical skills ahem, skills that I do not possess.
Well if I do end up with something, you'll see it here first :)
***
toasted muesli
adapted from Epicure via The Age
ingredients:
makes around 4-5 cups
2 cups wholegrain rolled oats

1/2 cup coconut flakes (I used shredded coconut)

1/2 cup natural almonds

1/4 cup sunflower seeds
(I used 1/4 cup of each: whole almonds, almond flakes, pepitas, pistachios, walnuts)

1 tsp ground ginger (omitted)

1 tsp ground cinnamon (omitted)

1/2 cup maple syrup (I used warmed honey)

1 Tb vegetable oil

1 cup mixed dried fruits of your choice (sultanas, cranberries, apricots - chopped etc.)
method:

Preheat oven to 180°C.


Mix the oats, coconut, nuts and seeds and spices, syrup and oil in a large bowl.
Spread mixture out on a large baking tray.


Bake in oven for about 25 minutes, stirring to redistribute after about 10 minutes.
Remove from the oven and cool on tray.


Mix together with your choice of dried fruits.
Store in airtight jar. (I put my in the fridge to retain crispiness.)